A Celebration & Showcase of Native Film & Television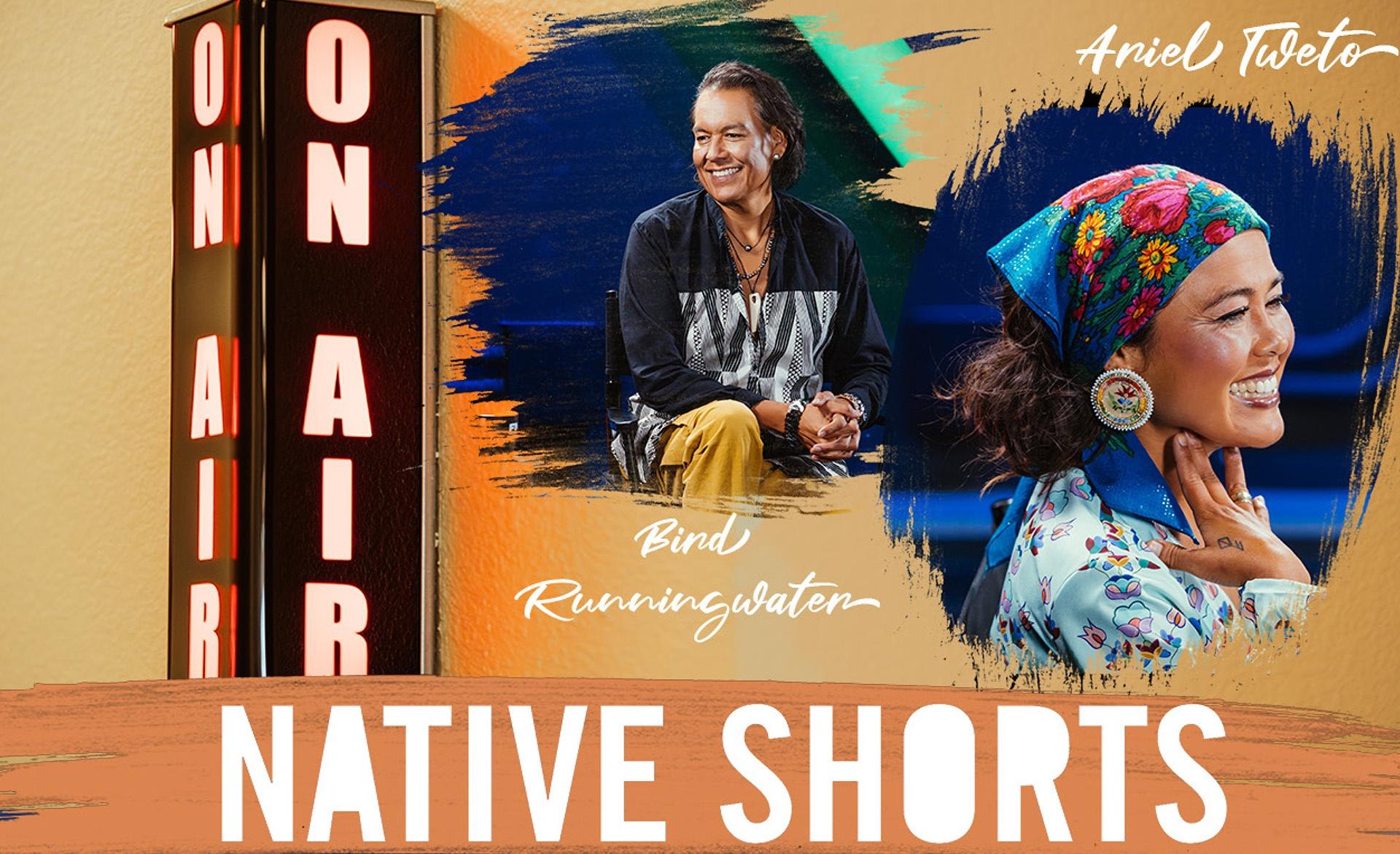 Contact: Frank Blanquet, fblanquet@fnx.org; 909-659-4179
A Celebration & Showcase of Native Film & Television
San Bernardino, CA – FNX TV, the National Native and World Indigenous Affiliate TV Station, is excited to announce a special evening of celebration, showcasing Native American film, television, and culture on Tuesday, November 14, beginning at 6:00pm in the KVCR/FNX Studio. FNX is located on the campus of San Bernardino Valley College.
FNX is the first and only nationally distributed TV channel in the U.S. exclusively devoted to Native American and World Indigenous programming and is carried by 29 affiliate stations in 32 states from Alaska to New York, reaching more than 80 million households across the United States.
The evening is an opportunity to showcase the new season of FNX's original series Native Shorts, and the second season of the popular series from PBS Native America.
The event will kick off with a watch party featuring a sneak preview of Season 4 of Native Shorts, a captivating series that highlights short films created by talented Native American and Indigenous filmmakers, whose films appeared at the Sundance Film Festival, or cultivated through the Sundance Institutes Indigenous Films Program. Hosts of the TV series, Ariel Tweto and Bird Runningwater will be in attendance. The evening will provide an opportunity for guests to meet our dedicated hosts. Native Shorts will premiere on FNX Thursday, November 30 at 8pm and will stream at FNX.org.
The screening will also include the popular PBS series Native America from Season 2. This series will present four hour-long episodes that present a groundbreaking portrait of contemporary Native America. Season 2 of this Native-directed series reveals the beauty and power of the todays' Indigenous communities. Guests will have the opportunity to view episode 4 of the series, "Language Is Life" which highlights how Native heroes are using every tool to recover, revitalize and restore their linguistic traditions. Native America will air on KVCR Wednesday nights in November at 8pm.
"We are excited for the return of Native America and to continue partnering with Native American filmmakers to tell their own stories," said Bill Gardner, Vice President, Multiplatform Programming & Head of Development at PBS. "Audiences are in for a captivating, multiplatform experience crafted by a collective of talented storytellers that highlights contemporary experiences and ongoing traditions from communities across the country."
Following the screenings will be an engaging and interactive Q&A session with filmmaker and series producer Dan Golding and Manuelito Wheeler whose mission is to have Hollywood blockbusters dub into Navajo and is featured in Native America. Also, part of the panelist will be Native Shorts' host Ariel Tweto and Bird Runningwater.
"This event celebrates the work of familiar faces to the FNX channel with Dan Golding a filmmaker with a direct connection to FNX through his previous work, and Manuelito Wheeler who helped FNX build a featurette when we broadcast the wonderful work he did on the Navajo language version of the Disney classic Finding Nemo. We have a group of leaders who have helped to bring Indigenous voices to the movie theatre and television experience," said long-time FNX producer Frank Blanquet.
2-2-2- A Celebration & Showcase of Native Film & Television
FNX & KVCR Executive Director Connie Leyva shared her enthusiasm about the opportunity this event brings to our community, "We are excited to host a celebration that showcases Native films and television. Its exciting to celebrate some familiar faces and friends from Native America and Native Shorts. We are grateful to the San Manuel Band of Mission Indians and PBS for their support in making this event possible."
The evening will conclude with a reception featuring Native Wines from tribally owned Twisted Cedar Wines, courtesy of the Cedar Band of Paiute Indians.
About FNX TV
FNX | First Nations Experience is the first and only national broadcast television network in the U.S. exclusively devoted to Native American and World Indigenous content. Through Native-produced and themed documentaries, dramatic series, nature, cooking, gardening, children's and arts programming, FNX strives to accurately illustrate the lives and cultures of Native people around the world.
Created as a shared vision between Founding Partners, the San Manuel Band of Mission Indians and the San Bernardino Community College District, FNX is owned by and originates from the studios of KVCR-PBS San Bernardino. FNX began terrestrial broadcast in the Los Angeles area on September 25, 2011 and went national on November 1, 2014, via the Public Television Interconnect System making the content available to PBS affiliates, community and tribal stations, and cable television service providers across the country.
FNX is working diligently to obtain channel carriage in as many communities as possible across the country. Learn more at www.fnx.org and find local listings of FNX affiliate channels at www.fnx.org/how-to-watch-us/.
About Native Shorts
Native Shorts is a series that showcases short films by Native American and Indigenous filmmakers. The series is produced by FNX in partnership with the Sundance Institute's Native American and Indigenous Program.
About PBS series Native America Season 2
Native America Season 2 is a documentary series that explores the challenges and opportunities facing Native Americans in the 21st century. The series follows the stories of Native Americans who are working to create a better future for their communities. Smashing stereotypes, it follows the brilliant engineers, bold politicians and cutting-edge artists who draw upon Native tradition to build a better 21st century. The series is narrated by Joy Harjo of the Muscogee (Creek) Nation, the internationally renowned poet, performer and writer who served three terms as the 23rd Poet Laureate of the United States.
About the San Manuel Band of Mission Indians
The San Manuel Band of Mission Indians is a federally recognized tribe located in Southern California. The tribe is a major supporter of Native American arts and culture and the founding partner of FNX Television.